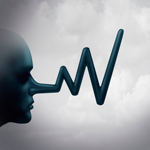 UPDATE 4/11/2020: According to FINRA's February 2020 Disciplinary Actions: "TD Ameritrade, Inc. (CRD #7870, Omaha, Nebraska) December 30, 2019 – An AWC was issued in which the firm was censured and fined $250,000. Without admitting or denying the findings, the firm consented to the sanctions and to the entry of findings that it created inaccurate order memoranda on options orders for customers whose orders should have been coded as Professional Customers. The findings stated that these orders were entered through the firm's internal trading platform and routed to option exchanges through third party broker-dealers. The firm mismarked approximately 1.5 million options orders with an inaccurate Customer origin code, rather than the required Professional Customer code for those orders, resulting in the execution of approximately 500,000 mismarked options orders. The miscoding caused inaccurate order records and potentially allowed those orders to be given undue priority for execution on the options exchanges, which prioritize Customer orders over Professional Customer orders in execution. The findings also stated that the firm failed to maintain a supervisory system reasonably designed to achieve compliance with the laws and rules governing the creation of order memoranda for option orders entered through the firm's trading platform. The firm's supervisory system was not reasonably designed to determine whether its customers' options orders entered through its trading platform were accurately coded. The firm's system for keeping track of the number of options orders entered by its customers through its trading platform did not aggregate orders submitted by the same customer through multiple accounts, and this deficiency caused it to fail to detect that options orders for certain customers were being miscoded. Moreover, the firm did not have a WSP for orders executed through its trading platform. (FINRA Case #2015045677201)"
Galvin Legal, PLLC is launching an investigation on behalf of investors who may have suffered losses investing with TD Ameritrade. If you suffered losses investing with TD Ameritrade, then Galvin Legal, PLLC may be able to help you recover your losses in a Financial Industry Regulatory Authority ("FINRA") arbitration claim.
TD Ameritrade
(CRD# 7870)
(SEC# 801-60469, 8-23395)
As of April 4, 2020, TD Ameritrade's FINRA BrokerCheck Report contains the following:
71

Regulatory Event Disclosures
1

Civil Event Disclosures
119

Arbitration Disclosures
Main Office Location
200 SOUTH 108TH AVENUE
OMAHA, NE 68154
UNITED STATES
Mailing Address
200 SOUTH 108TH AVENUE
OMAHA, NE 68154
UNITED STATES
Business Telephone Number
800-669-3900
Direct Owners and Executive Officers
TD AMERITRADE ONLINE HOLDINGS CORP., OWNER
BAAS, BRYAN TODD (CRD#:2195406), CHIEF COMPLIANCE OFFICER – BD
BAAS, BRYAN TODD (CRD#:2195406), CHIEF COMPLAINCE OFFICER – RIA
DESILVA, PETER JAMES (CRD#:1740057), PRESIDENT, DIRECTOR
IRACI, JOSEPH A (CRD#:5479112), CHIEF RISK OFFICER
NALLY, THOMAS ANDREW JR (CRD#:2479301), EVP, INSTITUTIONAL SERVICES, DIRECTOR
PETERSON, JON C (CRD#:2772631), CHIEF FINANCIAL OFFICER/FINOP/DIRECTOR
QUIRK, STEVE MARK (CRD#:2728768), SVP, TRADER GROUP
SCHWEISS, ALBERT GEORGE (CRD#:1676345), SVP, CORPORATE SERVICES
SULLIVAN, STACI JANE (CRD#:2985178), VP, MANAGING DIRECTOR, OPERATIONS-BD
YATES, WILLIAM THOMAS (CRD#:2749545), TREASURER
FINRA requires brokerage firms to conduct due diligence on investments and to conduct a suitability analysis when recommending securities to a customer that takes into account the customer's knowledge and experience. Brokerage firms that fail to conduct adequate due diligence or that make unsuitable recommendations can be held responsible for the customer's losses in a FINRA arbitration claim.
If you suffered losses investing with TD Ameritrade and would like a free consultation with a securities attorney, then please call Galvin Legal, PLLC at 1-800-405-5117.
This information is all publicly available and is being provided to you by Galvin Legal, PLLC.
Galvin Legal, PLLC is a national securities arbitration, securities mediation, securities litigation, securities fraud, securities regulation and compliance, and investor protection law practice. For more information on Galvin Legal, PLLC and its representation of investors, please visit www.galvinlegal.com or call 1-800-405-5117.